Husband and I will be celebrating the 4th year of our mushroom days (the day I said I love u too kabute) on July 28. Umma my dearest friend from cali and her husband D will be celebrating their 6th wedding anniversary on that same day too! And because she wants to share her blessings and to celebrate their blissful union she will be giving away a brand new coach satchel bag worth $300 on her first ever giveaway in the blogniverse.
Of course, I would like to bring home that COACH bag BUT really, all I want to do now is to support this very generous friend of mine. I am inviting all of you to join and if this contest becomes successful, we shall look forward to her monthly giveaway! Who knows what else Umma will have in mind on the next months!!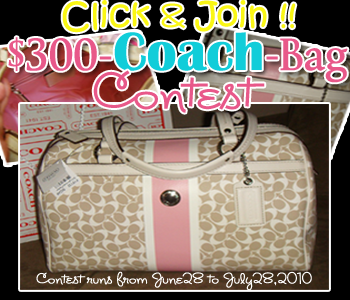 Main Sponsors:
If you learn about the contest from here and decided to join please tell Umma you are being referred by me, NIKO. =) Thanks a lot!